Dean's letter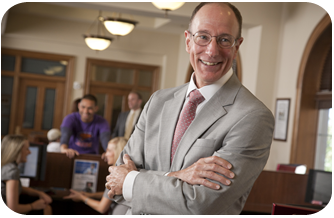 Stimulating the engine of the Oklahoma (and U.S.) economy has been at the forefront of Price College's agenda since the outset of the college. No better example of the lasting commitment is that of the WPA art, which has adorned the south entryway of Adams Hall since the opening of the building in 1936. Ironically, just recently three large paintings depicting key industries in Oklahoma are now displayed on the north side of our college's building complex. More on the art and those who have provided their generous support may be found in this e-newsletter.
What better driver of the Oklahoma economy, one founded in the entrepreneurial spirit of the Land Rush, than the preparation of future business creators and owners? The remarkable success and growing impact of the college's Entrepreneurship and Venture Management Program as well as the early career progress of two of our recent alumni are highlighted here.
We hope you enjoy this edition of the Price E-Newsletter. As always, we welcome your feedback.

Ken Evans
Dean and Fred E. Brown Chair